Jami undergoes continuous ongoing development and release, so you can experience improvements and new features as we implement them. When we reach a significant milestone or introduce important new features, we will give it a code name. We have given today's release of Jami the code name "Together".
The pandemic affecting our world has had a considerable impact on the Jami team, like everyone. This has forced us to review our priorities, even rethink our vision of the Jami project.
We've decided to transform Jami from a simple peer‑to‑peer communication system, into group communication software that would enable large groups to collaborate, while preserving individual privacy and security, yet still be free (as in freedom) and gratis (free of charge). "Together" lays the foundation for this new direction.
What will you find in this new version of Jami? Let's review the technical improvements and new features, which exemplifies the name "Together".
Major technical improvements
Many traditional "bug fixes" were implemented, and there isn't enough space here to list them all. Overall, Jami has become more robust and reliable. However, three notable improvements are worth mentioning.
There has been a significant improvement to Jami's ability to operate on low-bandwidth networks. We are very proud of this improvement, as it will open communications to a large number of users with limited access to the Internet (and they make up the vast majority of humanity!) using Jami. For example, now Jami needs only 50 kB/s in audio/video mode, and 10 kB/s for audio-only calls.
Mobile versions of Jami (Android and iOS) are now much less demanding on your phone's resources, drastically reducing battery consumption. Mobile device wake up is improved, and calls are generally more efficient.
Jami for Windows has seen a significant technical evolution. It has been almost completely rewritten, providing a much better user experience. Jami works better in Microsoft desktop environments (Windows 8, Windows 10) and now runs on Surface tablets. We are eagerly anticipate feedback from users of these platforms.
What's new in the "Together" version
A more efficient and enriched video conferencing system
Let's be honest: until now, Jami's conferencing system wasn't really functional. We put a lot of effort into conferencing, and have great results. We were able to test many dozens of participants ourselves, with no problem. There are no theoretical limits to the number of participants– only the available network bandwidth and host device capabilities will limit their numbers. Please, try it with large groups. We look forward to hearing about your experience,it is very useful to us.
Another useful improvement is the ability to dynamically change the conference layout. You can select the participant you wish to highlight, share a presentation, or stream media in full screen. How? Just click on it!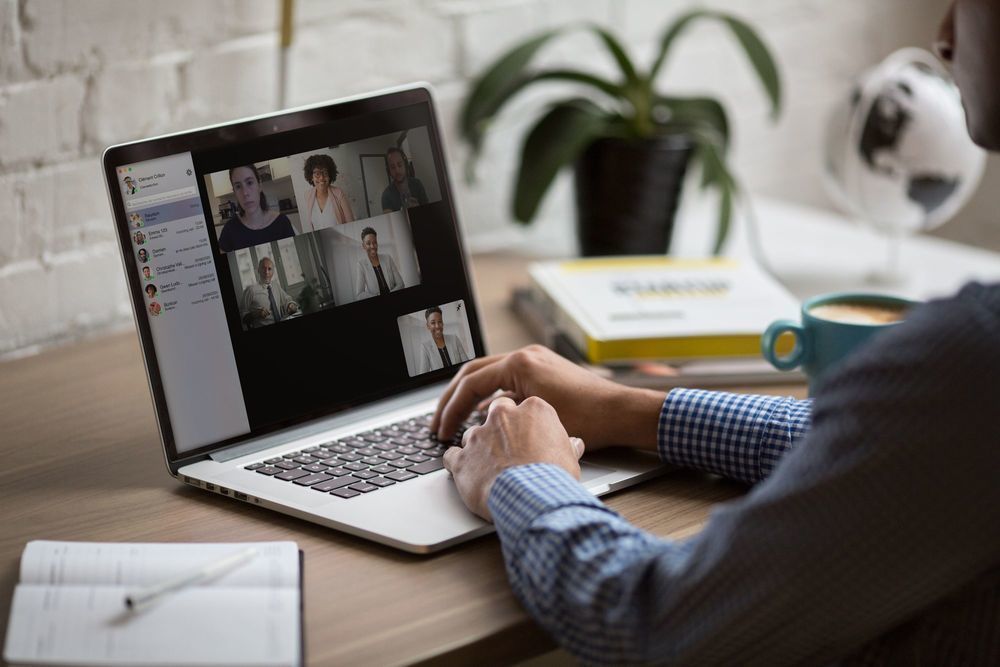 Rendezvous Points
This is undoubtedly one of the most innovative and promising features of "Together". The bottom line is that it allows you to turn your Jami application into a conference server with just one click.
"Rendezvous Points"appear like any other account that you create in the account creation wizard. Each can be permanent or ephemeral, and each can have a name that you may or may not register on the public directory.
Once created, the users you have invited will be able to meet, see and talk to each other at any time – even if you are absent or on another call! All you need to do is connect your account to the Internet.
For example, if you are a teacher and you have to teach from a distance: create your Rendezvous Point, and share the identifier with your students. From your account, call the Rendezvous Point and you're there!
As with video conferences, you can control the layout of the video by simply clicking on the user you want to highlight.
You can create as many Rendezvous Points as you want.
This is just the beginning. We've got a lot of ideas for additional options and features for Rendezvous Points that we'll be adding in the coming months (such as setting a schedule and duration). Please share your ideas and comments. Even if it takes time to consider, we always take your input seriously!
JAMS - Jami Account Management Server
Jami implements a free distributed network for everyone. However, organizations wishing to use Jami require a higher level of control over users of their network, so we have created Jami Account Management Server (JAMS). JAMS allows them to manage their own Jami community while taking advantage of Jami's distributed network architecture.
With JAMS, you can create your own community of Jami users, either directly on the server or by connecting it to your of your LDAP authentication server or Active Directory service. You can manage user contact lists or push specific configurations to groups of users.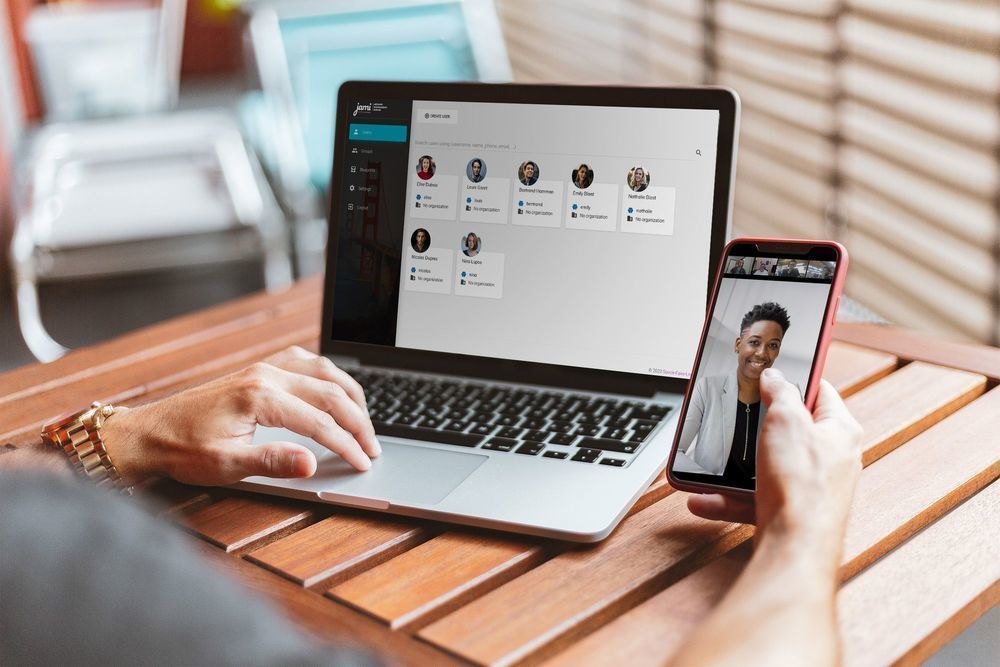 This new component of the Jami ecosystem will be especially useful for companies or organizations such as schools. An"Alpha" version has been available on our website for several months now, and today a "Beta" version has been posted to test in your environment. A full production release should be available in November, and by the end of the year, we plan to offer full commercial JAMS support.
The plugin module system and the first Jami plugin!
Jami "Together" now includes a plugin system! This allows external programmers to integrate new functions into Jami without having to handle the full complexity of Jami. This initial implementation allows modification of the video stream using specific transformations.
Initially, we've developed a plugin called "GreenScreen" based on TensorFlow, the well-known neural network framework developed by Google. Implementing artificial intelligence in Jami is so exciting, opening up an unlimited number of potential new functions and use cases...
The GreenScreen plugin allows to modify the image background during a video call. What makes it so unique? All the processing happens locally on your device.
GreenScreen is available for download from our website, for GNU/Linux, Windows and Android platforms. An Apple version should be available in the near future.
This first version of GreenScreen requires substantial machine resources. In fact, an Nvidia graphics card is highly recommended.  For Android, only phones with a dedicated AI chip will work well.
What is our roadmap for the next few months
Two projects will be at the heart of our activity: consolidating and enriching the new functions mentioned above, and "Swarm Chat", which will allow the synchronization of conversations between multiple devices and the communication of private and public groups.
In conclusion, quoting Paul B. Preciado: "Let's be aware that when we download an application, we don't just install it in our mobile, but directly in our cognitive device".
GNU/Jami is an application unlike any other. What do you think about it? Please let us know!