Taranis is the new major stable release of Jami, and so we invite all Jami users to upgrade their version of Jami to this newest release now. Taranis, the Gallic and Celtic god of the sky, lightning and thunder, will be the baptismal name of this new version of Jami.
Let's jump right in with the new features and improvements in Jami Taranis!
Taranis release highlights
Jami Taranis includes several useful new features along with many smaller improvements and bug fixes, that we encourage our users to upgrade to Taranis to enjoy them.
Windows 11 support
We are happy to announce the support for Windows 11 in this latest release of Jami. We have done a lot of testing to make sure that Jami will run well on the new version of the Microsoft operating system, and we have found no problems thus far. Feedback from our Jami users on Windows will be greatly appreciated in helping us find and fix any potential issues.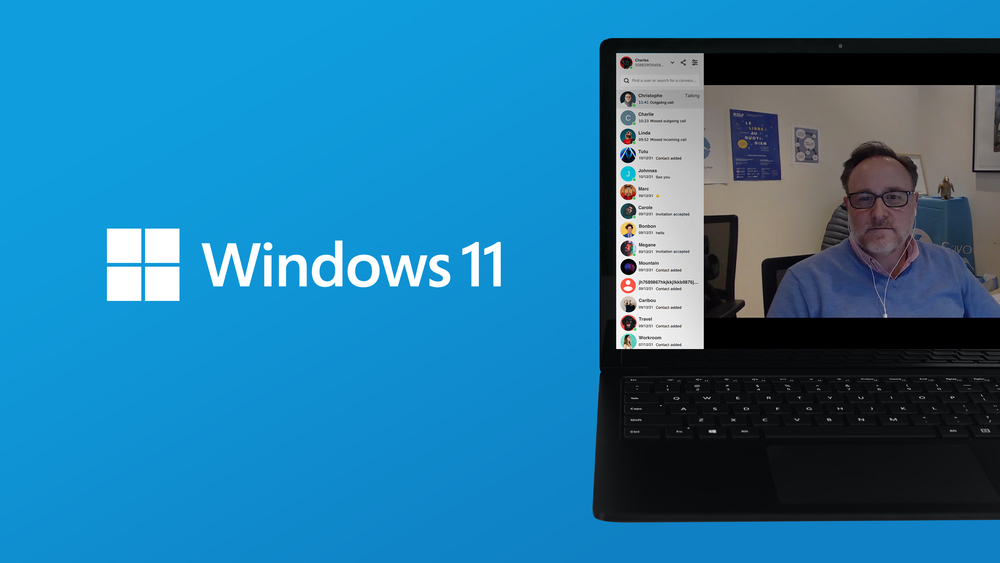 Phase one of Swarms: synchronized 1-to-1 conversations
After much work on developing, testing, refining, and gradually rolling out beta versions for phase one of Swarm implementation albeit with some minor delays along the way, the first phase of Swarm support in Jami is now available across all platforms in this new major stable release of Jami! Swarms are fully distributed, peer-to-peer chats with conversation histories synchronized across your devices, and the potential to be expanded into group chats in upcoming future releases of Jami. To learn more about Swarms, you can read our earlier article Swarm: a new generation of group conversations for a more detailed introduction to Swarms and the road ahead.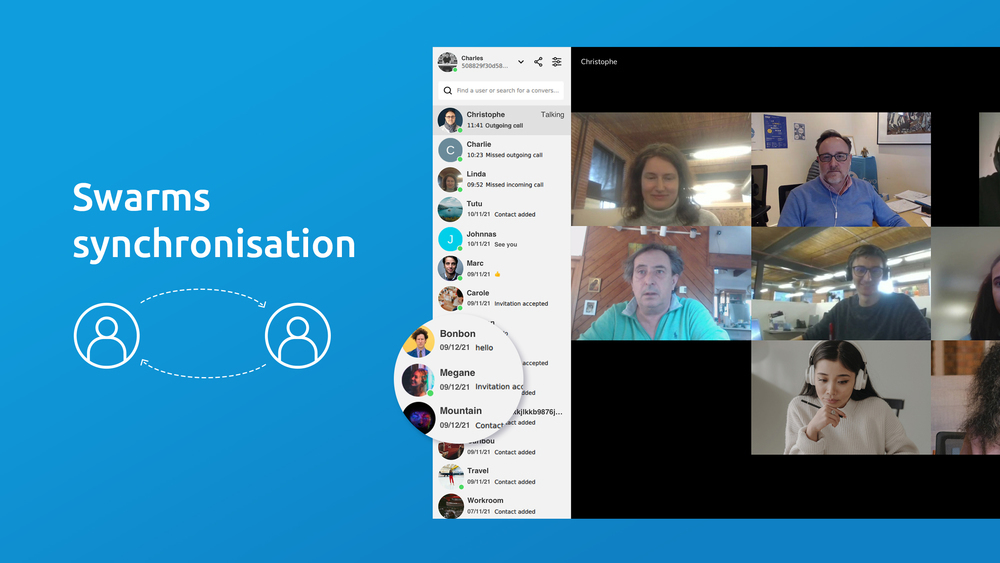 In the first phase of Swarm support, Swarms enable synchronization of 1-to-1 conversations across multiple devices associated with the same account. Please note that this synchronization is only possible with new conversations created with Swarm-capable versions of Jami (with the beta versions with Swarm since September 2021 for select platforms, or with this release of Jami onwards across all platforms). To use a Swarm conversation with a contact, since for each contact Swarm and non-Swarm conversations cannot coexist, if there is an existing non-Swarm conversation with that contact you first need to delete that conversation (on both sides!), then start a new conversation with that contact by sending a new request.
If you experience any issues with Swarm conversations, trying reinstalling Jami and starting fresh may help (don't forget to make a backup of your account first!). The Jami team has done a lot of work on Swarms and testing them in various scenarios, but if you do experience any issues, we would be grateful to receive reports about them (please see our bug report guide for more information about how to gather more details and logs from Jami on various platforms, for more thorough bug reports).
Improvements to conferences and rendezvous points
We are also pleased to share several improvements to the Jami conferencing system in this new major release. We have added fine-grained moderation tools for managing participants in a conference call with tools such as 'moderator mute' and 'kick' of participants by the host and designated moderators, a 'raise hand' feature for allowing participants to indicate that they would like to speak, as well as enhancing the share screen feature by adding the ability to share a specific window, in addition to the already-available options of sharing the entire desktop or a selected screen area.
When used individually or combined together, these features make Jami an even more useful and powerful tool for managing and conducting group calls and conferences. You can read more about these enhancements and new features for conferences and rendezvous points in our recent article The Jami conferencing system.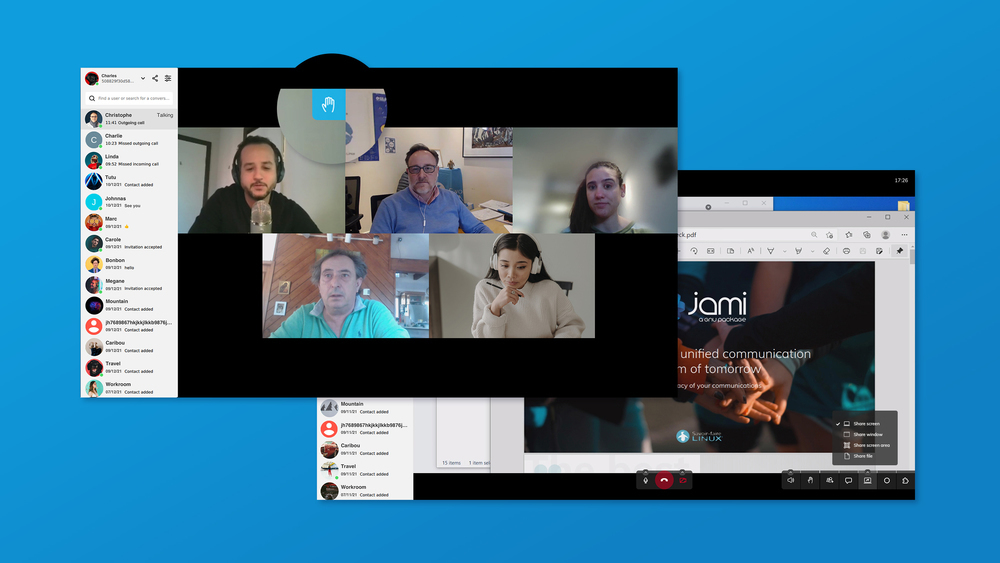 New Android call interface and improved mobile connectivity
Our mobile users may notice the various subtle and not-so-subtle improvements to the mobile versions of Jami in Taranis; for instance, a redesigned call screen for Jami on Android that is more intuitive and frankly more pleasant to use. iOS users will appreciate the improved connectivity particularly when their device is in sleep/power-saving mode.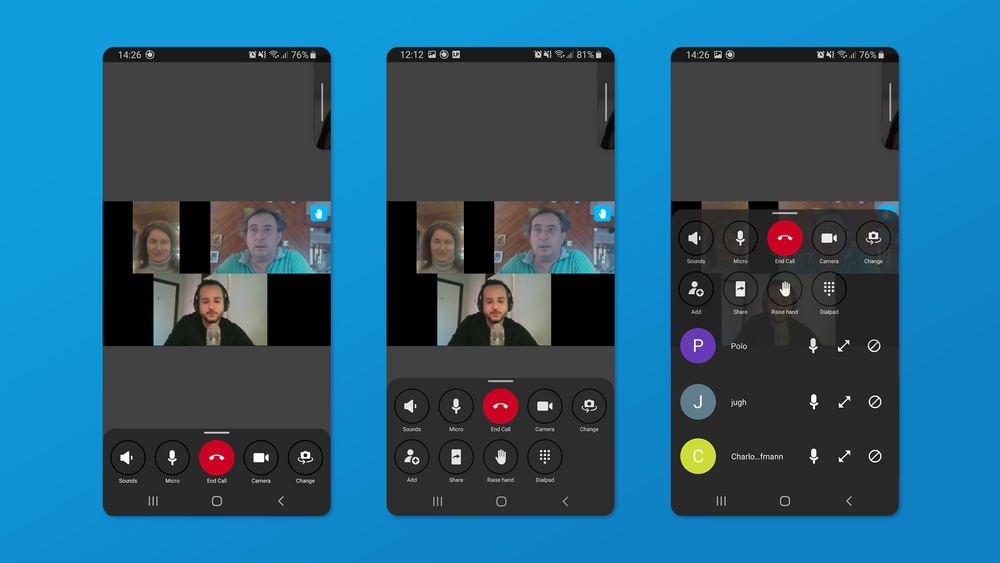 That's about it for the new features in Jami Taranis! Much like previous releases of Jami, the new features in this release are accompanied by many smaller improvements and bug fixes. We look forward to you taking this new release of Jami for a spin, and letting us know about your experiences.
With all of that said, we wish all Jami users a happy holiday season, and a happy new year in advance. Thank you so much for using Jami, and for your support and helping spread the word about Jami!